Welcome to the Rainbow Families 18th Annual Family Conference
May 22 & 23, 2021  –  Virtual
We are delighted to introduce you to our second virtual Family Conference.    Last year we quickly pivoted to hold our Family Conference as a Zoom event, thinking it would surely be one year only.   However,  we realized the power (and convenience) of digital connection, as we welcomed our largest attendance ever.
"Come & Go!"   Join the Discussions of Interest to You, While Enjoying Your Weekend
This year, still keeping our community's health and safety in mind, we doubled down!  We selected an entirely new virtual event platform.   Attendees will easily navigate through the main stage, sponsor expo, and the all-important discussions & workshops running all day Saturday May 22.
We'll continue with our two-day model as well.   Sunday will be our Sponsor Expo, and our all-new SCHOOL FAIR.  Attendees can meet with sponsors as well as schools and educators.  We'll offer education-related workshops on Sunday too.
Special Guest
We are delighted to announce, Congressman Mondaire Jones (D-NY17) is the recipient of the Rainbow Families Hero of the Year – 2021 award.  He joins us live at our Opening Ceremony to talk about our rights, our families, and our future!   Read more about Representative Jones here.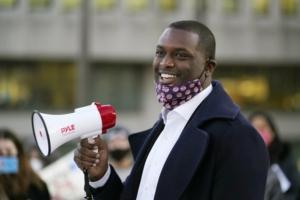 "Forward, Together…"
This year's Conference Theme speaks to the journey of this past year.  From racial and social injustice, a global pandemic, politics and the election – we've been through difficult times.
And yet, our community's resilience and strength lifted one another.   Just as we've done for decades.  Generations.
As we hope for the light at the end of the tunnel, this year's theme seemed appropos:  We will move forward, together.  And Stronger.
Registration
Registration is OPEN – Click HERE
Take advantage of EARLY BIRD PRICING –  Just $39 for up to 2 people on one screen – until May 1  (Rate goes up to $50)
Agenda
Take a look at this robust schedule – over 25 informative, inspirational Workshops, a School Fair, a Sponsor Expo and more – there's a lot in store this year!
Click HERE for the Agenda   then Register Today!
Just Added!  Our Silent Auction!
With over $10,000 (and growing) in products and services generously donated, we invite you to view the list and bid now!  From jewelry to surrogacy fees and more!  See for yourself here!  Open for bidding April 1 to May 24