Helping Make Sense of Mounting Challenges, and Offering Helpful Takeaways
Since Supreme Court's overturning of Roe, we have witnessed further-reaching implications for the LGBTQ+ community.  Marriage, parentage, privacy, and other rights are on the radar at both the federal and state level.  In 2022 there were over 300 anti-LGBTQ articles of legislation proposed.
We have a lot to navigate – fear, anger, frustration – especially as we determine what's real (or not) when doomscrolling on social media.
There's no crystal ball. No one has all the answers.  However, Rainbow Families' Legal Talk Series is designed to empower, inform and connect.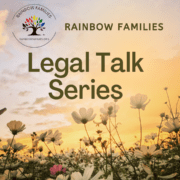 Our periodic virtual discussions seek to provide an opportunity to hear from experts on a variety of topics such as marriage, estate planning, surrogacy and other ART pathways, adoption, birth certificates, wills and powers of attorney, unpacking the emotions of all this, and more.   Each session will focus on a different topic.    Please note – these are not to be taken as legal advice; consult with your own legal professional for actions/decisions best suited to your unique situation.  The opinions expressed by our presenters are their own.
Go to our calendar to find dates of upcoming sessions, and to register.
As a small (but mighty) non profit in service to LGBTQ+ families for over 40 years, we are proud to offer programs and services on such timely and vital matters.
Stay safe, stay informed, and let's stay together – in solidarity.