Rainbow Families Parents of Color
In Rainbow Families' continued work towards supporting and engaging all members of the LGBTQ+ family community,  we have committed to supporting a space specifically and intentionally created for BIPOC (Black and Indigenous People of Color) who are parents or prospective parents to connect, recharge, and network with other queer people of color (QPOC). This means you have lived experiences as an adult Black or Brown person, and as a parent, and desire the opportunity to come together as a community to discuss and share resources, laugh and learn about commonalities and differences, as well as dig deeper into the BIPOC & QPOC experiences that unite us.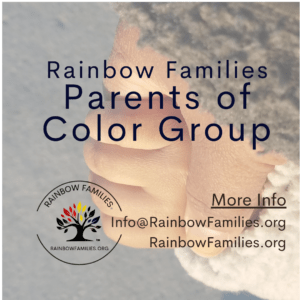 At our 2022 Rainbow Families Annual Conference, we held a workshop for parents of color, and heard the desires of the community to have a standing group within this organization.  This group continues and expands the space and conversations born from that time together.
We invite members and friends, parents or prospective parents, who identify themselves as a member of the Queer Parents of Color  community to participate in this group.  We'll have opportunities to connect both virtually and in-person; we look forward to seeing you there!
As we secure dates and venues, you'll find them listed on our website under "Calendar".
Have a suggestion?  Idea for an outing?  Something you'd like from this group?  Great!  Email us at INFO@Rainbowfamilies.org  and your email will be forwarded to the right person!  You WILL get a response!