ENGAGE WITH RAINBOW FAMILIES
Rainbow Families members are the heart of our organization. Explore the many ways to enrich your involvement, and serve the community
Join the Rainbow Families Board of Directors
Every June, a portion of our current Board Members' terms expire; those members are replaced with new Board Members.  This assures a supply of new energy and ideas are brought to the organization, as well as provides for the organization's management stability.
We seek people with a passion for our mission, a commitment to our work,  and people who reflect the diversity of the families we serve.  We particularly seek individuals with fundraising or other development-related expertise.  We have a variety of committees to suit our board members' interests, and a modest time commitment requirement.
If you have an interest in learning more, please contact our Board President for a discussion today.
Administrative Opportunities
Perhaps you have an hour or two each week to give – and an interest in assisting with some administrative functions.   That could include items as member outreach, database assistance, social media and more.  We'd love to chat with you, no matter where you live in the United States!
Organize a PlayGroup or Outing
In-person get togethers, a cornerstone of Rainbow Families, will resume as soon as it's safe!
Consider volunteering to organize a playgroup, story-time, nature hike, cooking class, or picnic in your neighborhood.   Volunteers serve as the coordinator, help welcome families who attend, and provide feedback to Rainbow Families.   As a volunteer, we work with you to determine the playgroup's date, time and location that works best for you, and we'll help spread the word to families in your area.   One-time commitments are welcome  
Outings:   Volunteers can have great fun organizing outings for families such as a hike, trip to a museum, a performance, sporting event,  etc.
Volunteering is pretty simple; pick an event or activity that interests your family and propose it to Rainbow Families via email.  We'll have a discussion about it, then work with you to coordinate the details, meet up location, etc. and post the event through our various channels.   It is a simple, straight-forward way to volunteer while connecting with other families and helping build community
Rainbow Families is committed to being of service to, and within, our community.   Through clean-up days, online fundraising promotions, micro grants/financial assistance, education and more.
These activities/events are posted on our events section of the home page, as well as our social media.
If you have a community service initiative you'd like seek Rainbow Families participation, please email us at least 4 weeks in advance.
Host a Workshop or Support Forum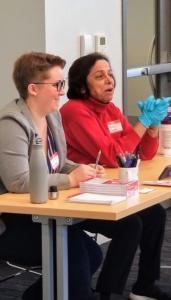 If you are a professional with an interest in sharing knowledge, experiences and/or expertise with our families and prospective parents, consider organizing an educational event, info session, workshop or support group
Our families appreciate the safe, supportive and welcoming learning environment created when surrounded by other LGBTQ+ parents and families.
If you have a background in group facilitation or a comparable skill set, consider volunteering to lead and facilitate a support group.   Most groups are  held virtually, offering added convenience both for facilitator and participants.
Rainbow Families will assist in the logistics, registrations, etc.
We welcome all proposals.   Reach our Executive Director Darren Paul-Vance at 202-845-6913  or by email